Ghulam Mustafa Solangi
1 min read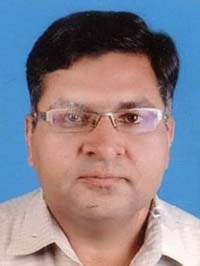 Today is the date of birth of the illustrious writer and broadcaster, Ghulam Mustafa Solangi, born on 1st August 1971 in Village Saheta of Shikarpur district. He pursued his education diligently and earned M.A. in International Relations from Quaid-e-Azam University, Islamabad, and M.A. in Sociology and M.A. in Sindhi from Shah Abdul Latif University, Khairpur.
He began his professional journey as a lecturer at Cadet College Larkana and later served as the Vice Principal of Army Public School and College Shikarpur. Subsequently, he joined Radio Pakistan as a producer and then moved on to serve as a senior producer at Pakistan Television Corporation.
From an early age, Ghulam Mustafa Solangi displayed a penchant for writing. He has gained fame as a multi-talented individual, excelling as a short story writer, researcher, archaeologist, lexicographer, children's author, grammarian, and translator.
He has authored more than 20 books in Sindh and English.